Citizens for Progressive Transit has developed a fantastic tool for multi-modal trip planning in the Atlanta region. Based on familiar Google Maps, A-Train (great name) gives the user lots of options important to walkers, bikers and transit riders. I am particularly excited about the Bike Triangle shown when you query a bike or bike/transit trip. It's a way to ask the use to describe what's important to them: terrain (hills), facility (street/sidewalk/trail) or distance. Depending on what kind of rider you are, this will have a different implication on what route it proposes. The best part is the green/red terrain indicator along the bottom for your trip to highlight big hills ahead.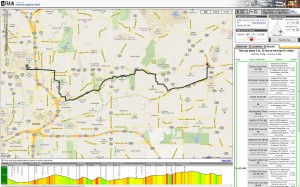 In general, the idea behind multi-modal trip planners is to get the average user into a mode-neutral mindset. The only thing with this one is that the developer/sponsor's intention shines through in that it does not provide driving directions. A comprehensive trip planner would have all available options and allow the user to compare them to see what is the best trip for their needs. This is understandable though, since many of the trips in Atlanta would be impractical or unfeasible all together for biking, walking or transit. Driving would always win. For now – let me just say this is a great tool and I hope to see it developed further.
It's hard to tell exactly who worked on it and when it was developed (seems like it dates back to 2007), but it's got a lot of useful features for multi-modal trip planning even by today's standards. Keep an eye on this blog for more posts about multi-modal trip planning as the semester goes on. With the arrival of our newest professor, Dr. Kari Watkins, and my personal interest in this area, it will be a frequent topic!