Welcome back to school ITE@GT. We hope you are staying healthy and safe as well as excitedly preparing for a new semester! ITE will always stay with you during this specific time! Here is the August Newsletter. Join us celebrating a new beginning!

Yangjiao Chen – 2020-2021 ITE@GT President
ITE@GT Events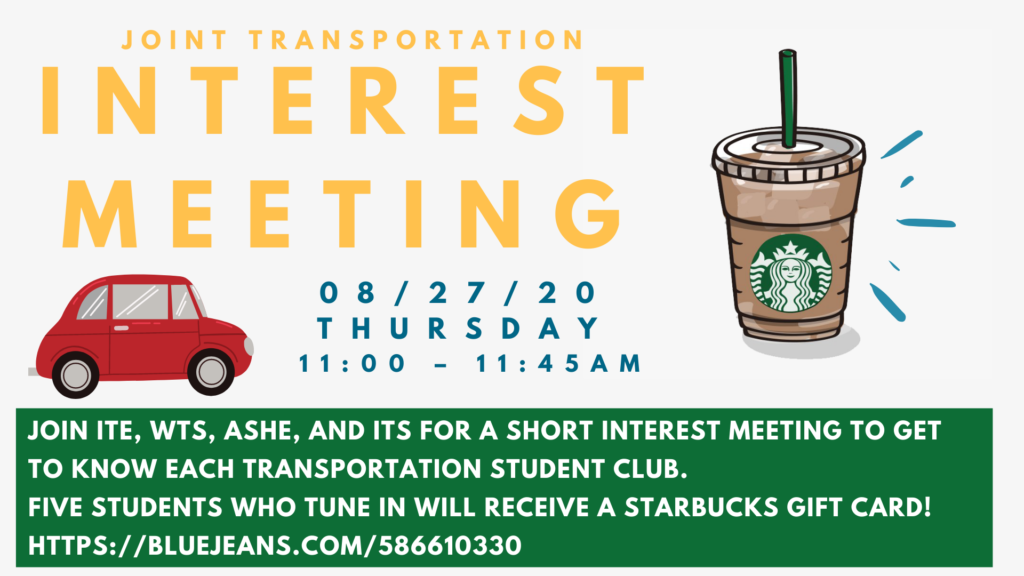 Join ITE, WTS, ASHE, and ITS for a short interest meeting to get to know each Transportation student club and your fellow peers. Ten students who tune in will receive a starbucks gift card!
Link to BlueJeans: https://bluejeans.com/586610330
Link to Facebook Event
After your workday, join ITE, WTS, ASHE, and ITS for a fun online game social. This is a great time to relax and have fun!
Link to BlueJeans: https://bluejeans.com/321365986
Link to Facebook Event
ITE@GT Open Positions
Interested in getting involved in ITE? Nominate yourself or a friend by contacting Yangjiao (ychen3254@gatech.edu) with the your name, year at Tech, position that you would like to be nominated by August 27. New and veteran undergrad or grad transportation students are welcome to apply! If only one person is nominated for a position, we will not vote for the role at our meeting on the 27th. The open positions for Fall 2020 and Spring 2021 include the secretary and the social and community service chair.
SECRETARY: The Secretary will record the proceedings of each meeting during the full academic year, distribute the minutes to the members, maintaining the membership roster and website. In addition, the secretary undertakes writing the bulk of the Annual Report.
SOCIAL AND COMMUNITY SERVICE CHAIR: Social and Community Service Chair's duties include planning, coordinating, and promoting all social and community service activities during the full academic year.In addition, this chair will manage ITE Facebook page.
External Transportation Events and News
Career Fair
Unfortunately, we will not be holding a Transportation Career Fair this semester due to COVID-19 social distancing restrictions.
We would like to encourage students to attend the CEEatGT Career Expo on Friday, September 11th 9-4pm using a Virtual Platform- Career Fair Plus where students can schedule virtual 1:1 sessions with recruiter.
TRB Call for Abstracts – Sept 4
The TRB Committee on Performance Effects of Geometric Design (AKD10) welcomes submission of abstracts by graduate student authors for consideration of presentation at the 100th Annual Meeting of the Transportation Research Board. The abstracts should reflect ongoing research being conducted by graduate students (both Master and Doctorate) in Geometric Design (and its performance effects such as safety and operations) that is not yet complete or in a format ready for a traditional TRB paper peer review.
The deadline is September 4, 2020.
Norfolk Southern Sponsorship
Thank you to Norfolk Southern for sponsoring ITE@GT in the 2020-2021 school year! Norfolk Southern operates approximately 19,500 route miles of railway and the most extensive intermodal network in the East. Norfolk is building a new headquarters building in Tech Square.