Transportation planning models often focus on the home-work trip. This has historically been the most common trip for travelers, particularly when travel models first were developed. In addition, jobs were historically located at the center of the city, and thus the majority of home-work trips were from the suburbs to downtown. Travelers now make a wider variety of trips, and the travel models have grown to be more complex to represent that. It's not possible, however, for the infrastructure to evolve as quickly, which had developed around the center city being the location for most jobs. Thus, road systems and rail transit systems still are primarily designed to move people in and out of the center city. As jobs moved to the suburbs, the suburb-to-suburb roadways became congested, not originally designed for such high volumes. Transit has been slower to respond, as rail lines cannot be changed, and buses have been tied up transporting workers to the center city.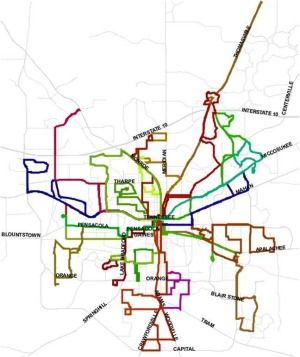 Tallahassee, Florida's transit system finally gave the old way the boot. As described by a recent article in
The Atlantic
, the city's transit system StarMetro scrapped their suburb-to-center city bus system, and implemented one which responded to the travel patterns of its populace. StarMetro found that only 14% of the region's jobs were located in the center city, and less than 7% of their riders were traveling to downtown. Yet their whole system was catering to these types of riders! The new system responds to the current needs of the city. With a brand new set of routes that were implemented overnight (certainly with plenty of prior notice) the city now responds to the trip-making which actually occurs. Although the argument can be made that the route changes decentralize the city even more, this is a minor complaint. The more significant aspect of the change is that it provides workers with the routes they
actually
need to get to their jobs, likely increasing the economic productivity of the region. In addition, the system's bus routes now all connect at a minimum to six other bus routes (with 14 less routes overall!). This network connectivity means travelers have more reasonable connection opportunities for the trip they are making, instead of all connections having to occur downtown. As mentioned in the Atlantic article (the author references a
Brookings study on transit networks and the location of jobs
), Atlanta is one city which could greatly benefit from such a change to its bus network. Atlanta is guilty of focusing its routes on the heavy rail system as well as downtown. It misses out on network connectivity. Perhaps the Tallahassee move could inspire Atlanta; with the same cost and less routes to manage, a good thing is happening in the state capital to the south!